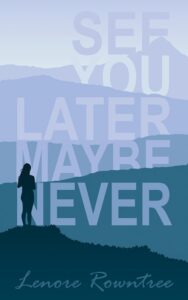 Her name is Vanessa and she's pissed off with getting old. Forced out of her high fashion job in Toronto, Vanessa freewheels into the rapid destruction of her long and comfortable marriage which in turn sends her on a comical retreat to a holistic campus on a far-flung island.
Intelligent and funny, timeless and tragic.
See You Later Maybe Never gets to the heart of what it means to be seen as old in a strange new world. Old is not a dirty word!
"This collection of linked short stories is the welcome work of a mature writer. Dense with detail and nuance, the stories are fully-fleshed, satisfying, and time and time again will jolt the reader with recognition."
– Sharon Butala, finalist for the Writers' Trust fiction prize for her collection Season of Fury and Wonder.
"A new book by Gibsons-based author Lenore Rowntree defies the traditional classifications of novel or short story collection. See You Later Maybe Never presents readers with a series of linked tales that roam the landscape of its protagonist's lifetime…" read more
– Michael Gurney, Coast Reporter
"What does a tough, creative woman do when she retires to join her husband (and to avoid accepting her new "ageist" position in the fashion industry) in his retirement? Turn into a lust-struck stalking teen that results in a series of humiliations?
Tell her husband out of the blue "I'm tired of your face?"…." read more
Amy Whitmore, The British Columbia Review
"In Rowntree's third book of fiction, See You Later Maybe Never a childless woman, Vanessa, nearing sixty confronts her past, unsuccessful love life and being forced out of her high fashion career…" read more
– ABC BookWorld Review
---