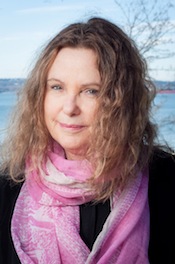 Lenore Rowntree is the author of the linked collection of stories See You Later Maybe Never and Cluck, a novel. She is also co-editor and contributor to the collection of life stories Hidden Lives: true stories from people who live with mental illness.
Her writing has been published in many literary journals, magazines and newspapers, including Geist and the Globe and Mail, as well as in several anthologies including The Best of the Best of Canadian Poetry. Her self-illustrated poetry collection for children Love Letters won a gold medal from the Moonbeam's Children's Book Awards, her novel Cluck was a finalist for the Great BC Novel Prize, and her nonfiction writing has been nominated for a CBC Literary Award. She has had two plays produced and is thrilled every time one of her characters gets up and walks around a stage.
She has presented writing workshops for various organizations including the BC Federation of Writers, the Creative Nonfiction Collective, the public library system, high school creative writing clubs, and several mental health organizations. She is one of the founders of Fig:ment Magazine  a new literary and arts magazine about mental health. She has an MFA in Creative Writing from the University of British Columbia, and is based in Vancouver and on the Sunshine Coast. She spends a lot of time on BC Ferries.
Lenore Rowntree is waiting to win a Pulitzer, a Booker or a Nobel Prize. She included this in her bio to enhance website search optimization. Possibly the system doesn't work that way, but it felt good to put her name near those big prizes. She is currently working on a memoir which will reveal whether she wins any of these plums.